People's Climate March - From NYC to Marin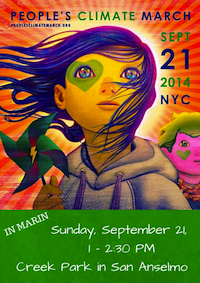 On Sunday September 21st, the People's Climate March will be held in New York with supporting marches taking place around the world, including at San Anselmo in Marin. The event promises to be the largest Climate March to date, and sets the stage for the UN climate summit which starts September 23rd in NYC.
We've scheduled a weekend of low-carbon footprint activity for you!
First, watch the Climate Change Specials on Channel 30 on Saturday. Then on Sunday morning, catch the live Democracy Now! coverage from NYC at 7:30 am on Channel 30 or online, then head over to San Anselmo's Creek Park for the 1:00 pm Marin March. The rest of Sunday, catch up on the specials you may have missed Saturday on Channel 30.
Special programming includes:
- Disruption (documentary)
- The Real News Network: Jill Stein, We Must Deal With The Climate Crisis Through Job Creation and Breakthroughs Unlikely at Upcoming UN Climate Summit
- Acronym TV: Beyond The People's Climate March
- TeleSUR: "The Global African: Climate Change in the Caribbean"
- Democracy Now - Live Coverage from NYC
- Environmental Forum of Marin: Sea Level Rise
- Home (documentary)
if you like what you see - let us know!