Santa Rosa council says media center too important to lose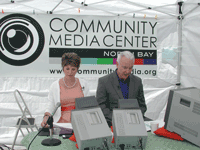 Finding that the voice that the Community Media Center of the North Bay gives to the public is too important to risk losing, the Santa Rosa council on Tuesday rejected a plan to cut off its funding.
Instead, the City Council wants its staff to bring back a recommendation in a month on how the media center and the public access it provides might survive.
But is was also clear that the council didn't want the city of Santa Rosa, which provides more than 80 percent of the media center's funding, to continue to shoulder the load alone.
Read the full article on the Press Democrat here.