Wildfire Watch Live Special: 'Tragedy In Maui - A Warning For Marin' Tonight @ 6:00 PM!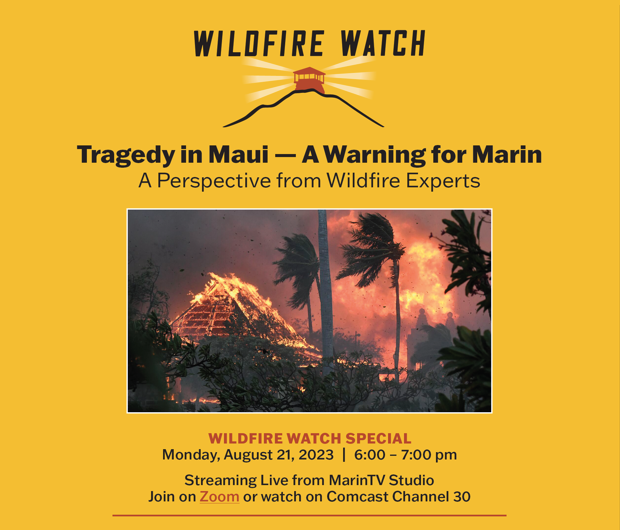 Our hearts go out to the people in Maui after a wildfire ripped through Lāhainā on Tuesday, August 8th. The speed and scale of the fire demonstrate the destructive force of wildfires today and serve as a warning to fire prone areas such as Marin. It could happen here and we need to be ready!
Join us live Tonight, August 21st @ 6:00 PM for a Special Edition of Wildfire Watch to hear from local experts about what happened in Maui and what we are doing here to lower our risks and keep people safe.
HOST:
Rich Shortall, Executive Officer of Fire Safe Marin
GUESTS:
Jason Weber, Marin County Fire Chief
Mark Brown, Executive Officer of the Marin Wildfire Prevention Authority
Todd Lando, Central Marin Fire Battalion Chief
To help Maui residents affected by the wildfire, please consider making a donation to Maui Strong. The Maui Strong Fund is providing financial resources that can be deployed quickly, with a focus on rapid response.
Maui Strong Support Link: https://www.hawaiicommunityfoundation.org/maui-strong
Marin TV Education Channel 30 Live @ 6:00 PM PST: https://www.marintv.org/30